Local Childhood Obesity Needs National Answers
"The Government has repeatedly ignored warnings on sugar and have listened to industry vested interests rather than independent experts.
This is especially topical for my constituency as according to recent numbers published by the Nottingham City Council up to 30% of children living in Nottingham North are overweight and an average child currently consumes 3 times the maximum recommended amount of sugar. Which is easy for them when a can of coca cola has 9 cubes of sugar but they should only have up to 7 cubes of sugar daily. Furthermore, it is estimated that 27% of residents aged 16 years and over are obese in Nottingham City compared with 24.5% in England. Therefore, it is important that the Government listen to experts from the British Medical Journal, which published a study confirming that the introduction of sugar tax in Mexico has led to reduce consumption of sugar sweetened beverages. Lower sugar intake would help to tackle the obesity epidemic which is especially bad in the most deprived areas such as my constituency Nottingham North." said Graham Allen MP. "This ties in with Nottm's Rebalancing the Outer estates campaign that every 3 year old should take up the free dental check",
The British Medical Journal recently published a study which examines the short term change in purchases of sugar sweetened beverages in stores one year after Mexico implemented a 1 peso per liter excise tax on them. The average volume of taxed beverages purchased monthly was 6% lower in 2014 compared with expected purchases with the tax absent. Moreover, the reductions accelerated, reaching a 12% decline by December 2014. The reduction was greatest among households of low socioeconomic status, averaging −9.1%, and reaching −17.4% by December 2014. Purchases of untaxed beverages were 4% higher than the counterfactual, mainly related to bottled water. Households of middle socioeconomic status increased their purchases the most.
Reducing the consumption of sugar sweetened beverages has been an important target for obesity and diabetes prevention effort. According to the updated figures from the child measurement programme which states that up to one quarter of children in the most deprived areas are obese (see table 1a).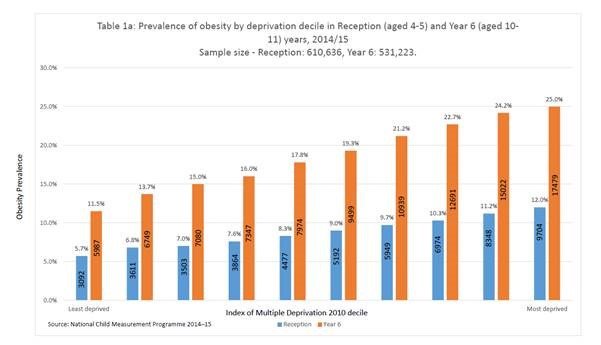 "I am a strong advocate of evidence based policy and therefore I urge the Government to take into account the last report published by the BMJ and do more to reduce the intake of sugar. Indeed, the latest report by the government's advisory committee on nutrition showed that there is a pressing need for cutting the amount of sugar in people's diet. For example, 4-to-10 years olds consume over 5,500 sugar cubes a year, or around 22kg. This is a classic case of early intervention where by acting now we can help to prevent a huge medical bill connected with obesity costs which is predicted to rise to £9.7 billion by 2050, with wider costs to society estimated to reach £49.9 billion per year" added Graham.
ENDS
Notes:
Evidence from British Medical Journal
http://www.bmj.com/content/352/bmj.h6704
Healthy Wight Strategy for Nottingham City 2011-2020
http://www.nottinghamcity.gov.uk/CHttpHandler.ashx?id=44265&p=0
Follow Graham on @GrahamAllenMP